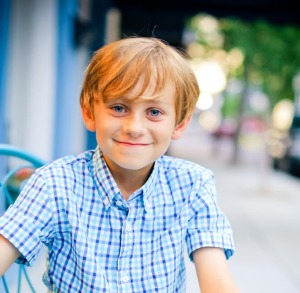 Aidan Brown was diagnosed with Stage 4 Neuroblastoma on May 20, 2010 just days before his fifth birthday. The immediate and constant outpouring of support, prayers and gifts from family, friends and the community continues to help Aidan and our family during this battle. We are humbled daily, forever grateful, and feel the need and desire to give back. In this spirit and with the help of our dear friends, Michelle Goyer and Seema Verma-Mishra, we have established the Aidan Brown Foundation.When we asked Aidan what children in the hospital needed, he answered "visitors." However, the next thing on his list (and our list) was his iPad. This generous gift from a family friend helps distract Aidan during painful procedures. It helps him pass time at the hospital waiting. It keeps him busy when receiving and recovering from treatments. This small device is loaded with his favorite shows, songs and games. We use it to read him well wishes from his CaringBridge site and to shop for his next Lego set or Star Wars action figure on the internet. It holds photographs of happy times, pretty and fun places we plan to visit and smiling faces of his many visitors.The Aidan Brown Foundation aims to help children with cancer stay positive by providing much-needed distractions and aiding in connecting them to people, places and things that they love. We hope to achieve this by raising funds to buy and give iPads to children, of all ages, undergoing cancer treatments in Indiana.
Aidan is currently battling a relapse of his Neuroblastoma which was diagnosed in June 2014.  He hopes these gifts will help other children with their fight and to stay strong and positive on their journey to Cured and Comfortable just as it does for him.
The Aidan Brown Foundation is a 501(c)3 non-profit organization.
Please email us so we can keep in touch with you.
Email us at: aidanbrownfoundation@gmail.com
Visit us at: http://www.caringbridge.org/visit/aidanbrown