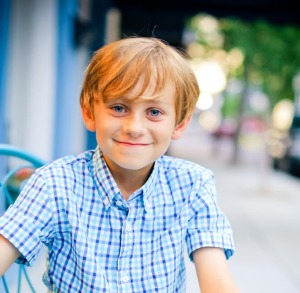 Aidan Brown was diagnosed with Stage 4 Neuroblastoma on May 20, 2010 just days before his fifth birthday. He relapsed shortly after his 10th birthday. The continuous support, prayers and gifts from family, friends and the community helped Aidan and our family during those dark days and years. We remain forever grateful to everyone for all they did for us. We are also thankful that their generosity inspired us to help others too. In this spirit, and with the help of our dear friends, Michelle Goyer and Seema Verma we established the Aidan Brown Foundation.
When we asked Aidan what children in the hospital needed, he answered "visitors." However, the next thing on his list (and our list) was his iPad. Aidan received one of the first-newly-introduced iPads as a gift and it quickly became his constant companion. It helped to distract him during painful procedures and to keep him busy during all the waiting, receiving and recovering from treatments. We loaded it with his favorite shows, songs and games. We used it to read him well wishes from his CaringBridge site and to stay connected with his brother and friends. We filled it with photographs of happy times, fun places we planned to visit, and the smiling faces of his many visitors.
The Aidan Brown Foundation aims to help children with cancer stay positive by providing much-needed distractions and by helping them stay connected to the people, places and things they love. We achieve this by raising funds to buy and give iPads to children, of all ages, undergoing cancer treatments in Indiana. Since beginning in July 2010, the Aidan Brown Foundation has gifted over 300 iPads. This is made possible thanks to countless donations and the creative fundraising efforts of Aidan's family, friends and community.
Aidan is a happy, healthy 7th grader.  He is a straight-A student who plays basketball for his school. He is on a rock climbing team. He loves everything about the NBA – especially The Boston Celtics. His current favorite thing to do is play Fortnite and to watch other people play Fortnite on his iPad. We remain thankful for all the people who helped us then and continue to help us now. We will always need prayers for Aidan's continued health and contributions to help us gift more iPads to more children. It's hard to put into words now, how helpful and game changing a small portable device was eight years ago when this whole journey began for us. That said, sadly there are still so many children who are battling cancer who need and deserve to have an iPad today.
The Aidan Brown Foundation is a 501(c)3 non-profit organization.
Please email us so we can keep in touch with you.
Email us at: aidanbrownfoundation@gmail.com
Visit us at: http://www.caringbridge.org/visit/aidanbrown